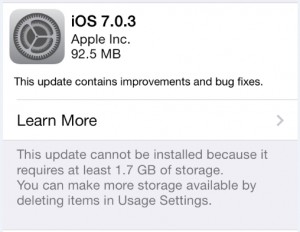 As I told you earlier in the week, the iOS7.0.3 download to fix all of our bugs and issues is now available to all iPhone and iPad users. The iOS7.0.3 download also includes some new features along with the bug fixes that we are waiting for to solve issues such as iMessage failures.
The update includes new iCloud Keychain and Password Generator support. iCloud Keychain keeps track of all of your account names, passwords and also credit card numbers, these are then accessible across all of your devices and the info is encrypted so cannot be read by Apple. Password Generator allows the Safari browser to suggest hard-to-guess passwords for your online accounts to increase your security. Wikipedia and web search have also been added back in to the spotlight search.
The list of fixes includes reduced motion on the home and application screens for those of you suffering from motion sickness and queasiness and the much needed iMessage fix. A full overview is below.
iOS7.0.3 download overview
iCloud Keychain to keep track of your account names, passwords and credit card numbers across all devices
Password Generator so Safari can suggest unique, hard-to-guess passwords for your online accounts
Updates lock screen to delay display of "slide to unlock" when Touch ID is in use
Ability to search the web and Wikipedia from Spotlight search
Fixes an issue where iMessage failed to send for some users
Fixes a bug that could prevent iMessage from activating
Improves system stability when using iWork apps
Fixes an accelerometer calibration issue
Fix for issue that could cause Siri and VoiceOver to use a lower quality voice
Fixes a bug that could allow someone to bypass the Lock screen passcode
Enhances the Reduce Motion setting to minimize both motion and animation
Updates the Bold Text setting to also change dial pad text
Bonus iOS7.0.3 download tip!
Here's a little bonus tip from me to you. Although the download is only 92.5MB, when installing over WiFi, my phone states that I need 1.7GB of storage free to complete the download. This is quite annoying as I don't have that amount free and also don't want to delete anything from my iPhone. If you plug your device in to iTunes on your computer, iOS7.0.3 will download and install without you needing to remove any of your data. It's also much faster.
In the meantime, if you have any old cell phones, iPhones, iPads or iPods that you are looking to sell, make sure you sell them through us. There is a whole host of reasons to recycle your cells and gadgets. We compare America's most reputable recycling companies so that you get a great price from a company you can rely on.
Simply search for the model you wish to sell using our search function.