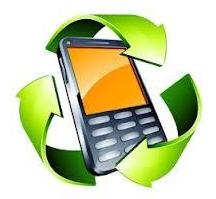 As we get further in to the 21st century, recycling and in particular gadget and cell phone recycling are becoming more and more important to preserve our environment. The savvy amongst us know that the Earth's resources are not endless. If everybody does their bit, whether it be recycling clothes, shoes, plastic bags or indeed recycling cell phones, iPads, MP3's, laptops, consoles and other gadgets that we often have lying around gathering dust, it will make the world a better place for our children and their children.
I probably don't need to tell you that cell phone recycling is a fantastic cause, many of us are already aware, but there are hundreds of millions of people across America who are not and often don't realise that that piece of plastic hidden away in the back of a drawer can be reused or recycled. Only around 12% of e-waste is getting recycled according to 2013 statistics. A reported 130 million cell phones are discarded each year in America, that's enough energy to power 24,000 homes for a year. 85% of the US population own a cell phone and nearly 1 billion are lying dormant!
Here are our top ten reasons to recycle cell phones
Most cell phone parts can be recycled, this prevents the use of natural resources being used instead
Conservation of precious metals such as gold, silver and copper which are found in most circuitry and also in the casings of some models
Cell phones contain hazardous materials such as Lead, Mercury and Cadmium which need to be disposed of responsibly, not tossed in to landfill
The ore Coltan is used in the production of cell phones, this is found in the Congo amongst endangered gorilla and habitants which are being killed by rebels mining this ore
Working cell phones can be shipped in bulk to third world countries or given to vulnerable people by charity organizations and shelters
The cost of new phones is reduced by the recycling and reuse of components
Selling your phone to a recycler can make you hundreds of dollars
Holding a cell phone recycling rally can raise thousands of dollars for your chosen charity, school or church
There is no comeback when you sell to a recycler, nobody wants the hassle of selling on eBay or to a friend who then tells you it's broken a few weeks later and demands their money back
It will give you a warm fuzzy feeling inside, knowing that you are doing your bit to help our environment
If you have an old, discarded or broken cell phone that you want to recycle then don't hesitate, please sell it through us here at www.sellmycellphones.com. We have been comparing cell phone recycling prices since 2010 and only compare reputable recyclers. Simply search for your model using our search function.
If you are a recycler, then get in touch using the contact form here, we would love to add you to the site.
The more we recycle, the better our world will be so keep on spreading the word. Happy recycling America!