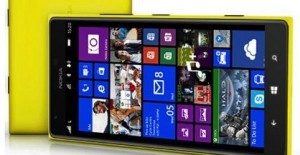 The Nokia World event is scheduled to take place tomorrow (October 22) and it is expected that they will announce the Nokia Lumia 1520 release date. A leak on a Chinese website seems to suggest that the Lumia 1520 will be announced and also gave away a few impressive technical specs at the same time.
Among the Nokia Lumia 1520 specs accidentally unveiled were details of a quad-core Qualcomm Snapdragon 800 processor and also a 20 megapixel PureView camera. The 20 megapixel camera isn't quite as outrageous as the 41 megapixels boasted by the Nokia Lumia 1020 but is still far superior to those being released by other manufacturers at the moment, although I must question the need for 41 megapixels on a cell phone. It is also anticipated to have a huge 6 inch 1080p screen making it more of a phablet than a cell phone that will easily slip in to your pocket. This puts the Lumia 1520 in direct competition with the Samsung Galaxy Note 3 and the HTC One Max as phablets become increasingly popular throughout the gadget world.
These are all of the details I have been able to lay my hands on at the moment, as soon as I know more I will be sure to let you know. The World Event is expected to feature several new handsets so it's an exciting time for Nokia lovers.
If you are thinking of updating your cell phone to the latest Nokia or if the impending Nokia Lumia 1520 release date has you keen to upgrade as soon as it is available, make sure you sell your old cell phone through us. We compare America's most reputable recycling companies so that you get a great price from a company you can rely on.
Simply search for the model you wish to sell using our search function.