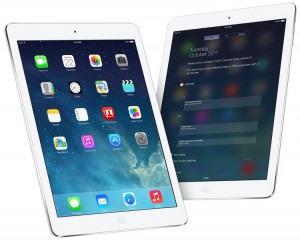 Apple yesterday (October 22nd) unveiled new iPad models at their launch event in San Francisco with a brand new 5th generation iPad and updated iPad Mini the focal points. The new iPad Air price will be $499 for the entry level 16GB WiFi only model. The iPad Air price is the same as entry level models of all previous incarnations of the iPad but this one, although similar in looks, sets a new standard within the tablet market and carries the catchline "The power of lightness".
The iPad Air lives up to its name, weighing in at just 1lb and 7.5 millimeters thick, making it 28% lighter and 20% thinner than previous models. Its super-slim aluminum body contains some impressive features though. The Retina display is there, along with an enhanced 5 megapixel iSight camera and a front facing FaceTime HD camera. It also features the new A7 64 bit processor and M7 coprocessor found in the iPhone 5s and the 10 hour battery life from previous models is maintained.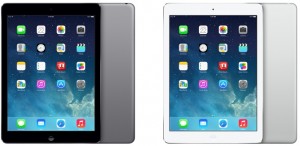 It also comes with ultrafast WiFi thanks to two antennas to give you twice the WiFi performance, and is available in Space Gray or Silver. The iPad Air looks to be setting the bar high for other tablet manufacturers to up their game, more iPad Air technical specs are below.
iPad Air specs
Available in Space Gray and Silver
WiFi and cellular models with 16GB, 32GB, 64GB and 128GB storage
Weighs just 1lb
Height 240mm, width 169.5mm, depth 7.5mm
9.7 inch multi-touch Retina display, 2048×1536 with 3.1MP resolution
A7 6 bit processor with M7 motion coprocessor
Bluetooth 4.0
Dual channel WiFi
LTE (cellular models only)
5MP iSight camera
1080p HD video recording
1.2MP 720p HD front facing FaceTime camera
10 hour battery life
iPad Mini with Retina display also announced

Along with the iPad Air (price from $499), Apple also announced an enhanced iPad Mini called iPad Mini with Retina display. Although the name doesn't have the coolness or catchiness of 'Air', the new iPad Mini is pretty impressive too. As the name suggests, the Retina display is now featured along with the A7 chip and M7 coprocessor. Other specs include 5 megapixel iSight camera, 1080p HD video recording, HD FaceTime front facing camera and a 10 hour battery life. As with the Air, the iPad Mini with Retina display will come in Space Gray or Silver with storage of 16GB, 32GB, 64GB and 128GB. The entry level 16GB WiFi only model will retail at $399.
The iPad Air will be released on November 1st and the iPad Mini with Retina display is scheduled for a November release, although no official date has been confirmed by Apple as yet.
If you are considering updating your current iPad or tablet to the latest iPad, make sure you sell your old tablet through us. We compare America's most reputable recycling companies so that you get a great price from a company you can rely on.
Simply search for the model you wish to sell using our search function.