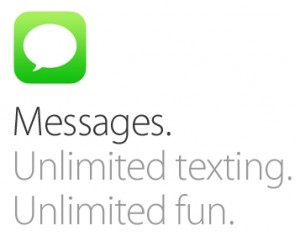 Many users (including ourselves here at SMCP HQ) have reported serious issues with iMessage being broken in iOS7. I must say that I didn't notice it when updating to iOS7 and iOS7.0.1 but the latest iOS7.0.2 update has been reporting serious iMessage issues that Apple have also confirmed. Apple state that it is only affecting a fraction of a percent of users but pretty much everyone I know has this issue so it seems to be far more widespread.
Apple state that a new iOS7.0.3 update will fix the issue but there is no news on when this will be rolled out, the rumors are that it is in final testing phase and will be available next week. Until then, you may notice that on the surface, your iMessage looks fine but messages are not sending or are getting stuck in your outbox and you are also not receiving iMessages.
The problem with iMessage is that it overrides the standard SMS so that any messages sent between Apple devices go through Apples server and not your network so you may not even know you have a messaging problem as the standard SMS messages are still going through fine to non-Apple handsets. What should normally happen with iMessage is that if Apple cannot send your message (for example if their server is down), it will automatically send as a standard SMS so your recipient will still get it, that isn't happening with the current iMessage issues so it is proving to be a real pain for many people.
Turning off iMessage altogether does not seem to work either, messages are still not going through and are getting lost. When I went in to turn off my iMessage to see if it would fix the problem, it was already turned off and the switch wasn't accessible to turn it back on if I wished. The problem seems to be affecting all iOS7 devices, whether you have upgraded to the operating system or have bought a new iPhone 5s or 5c.
Anyway, that's enough waffle, you are here because you want to know the fix for iMessage in iOS7. Below are the instructions on how to fix the issue, we have followed these in the office and they seem to work, a stack of messages came through that had been sent to me over the weekend once my phone had rebooted.
Instructions to fix iMessage in iOS7
Access Settings > Messages and make sure that iMessage is turned off (mine already was when I checked this)
Access Settings > General, scroll to the bottom and select Reset
Choose the 3rd option 'Reset Network Settings', don't worry, this won't delete any of your data. Your cell should now restart
Once rebooted, access Settings > Messages and ensure that iMessage is turned on
Any iMessages that had been sent to you and not received since the problem arose should also now come through too.
As soon as Apple release a permanent fix for iMessage in iOS7 I will be sure to let you know. In the meantime, if you have any old cell phones that you are looking to sell, make sure you sell them through us. We compare America's most reputable recycling companies so that you get a great price from a company you can rely on.
Simply search for the model you wish to sell using our search function.