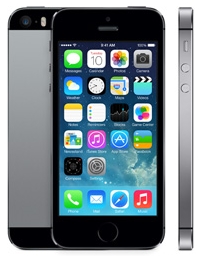 It's here! It's finally here! As with any iPhone release, it has been anticipated, speculated and there have been rumours abound, but the iPhone 5s is finally here. Here is a lowdown on the iPhone 5s features after Apple finally launched it at their September 10th media event in Cupertino.
There's no doubting that it's a very sexy looking phone, that's because it's almost identical to the very sexy looking iPhone 5, same height (123mm), width (58mm), depth (7.6mm) and weight (112 grams). Apple have also confirmed that the iPhone 5 is now defunct, they will not be making any more and you can no longer purchase it from the Apple website, only the 4s, 5s and 5c are available directly.
So, if the iPhone 5 is no more, what more does the iPhone 5s features offer? Well, there's quite a few, although not all are eyebrow-raising technological advancements. Apple described it in their speech as "the most forward-thinking phone we've ever created", so the iPhone 5s features have a lot to live up to!
The iPhone 5s has a new A7 64-bit microprocessor, the first 64-bit ever to be used in a cell phone. This is an improvement on the iPhone 5's already impressive A6 chip and boasts up to twice the processing speed. The A7 chip is also accompanied with an M7 motion coprocessor which will enhance all fitness related Apps, accelerometer, gyroscope and compass and act as a sidekick to the A7 chip to enhance speed, performance and improve battery life.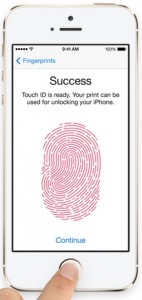 The iPhone 5s features a completely redeveloped "iSight" 8 megapixel camera with True Tone flash. True Tone contains both a white LED and an amber LED flash which is claimed to automatically adjust to give the perfect lighting for your shots. The HD video capture now includes a 3x zoom and the 120 frames per second at 720p means that it can also capture slow-motion video. FaceTime is also now HD. The iPhone 5s features 16GB, 32GB and 64GB models.
Last but not least and maybe the coolest of iPhone 5s features (yes, all the rumours were true!!), it does have a fingerprint ID sensor. Not vastly quicker than entering a passcode, but hey, it's damn cool! Put your finger on the home button and the phone instantly unlocks, your fingerprint is also used to purchase from iTunes and the App Store rather than entering a password. It also has multiple fingerprint capability, so your trusted and loved ones can also access it as well as you. We think this is pretty cool.
Key iPhone 5s features overview
New 64-bit A7 processing chip, twice as fast as the iPhone 5
M7 motion coprocessor
Redeveloped iSight camera with dual LED True Tone flash
HD video capture, including slow motion
Fingerprint sensor home key
10 hours 3G talk time, 250 hours standby, 10 hours LTE browsing, 40 hours music playback
Available in gold, silver and space gray
 iPhone 5s also features iOS7
The iPhone 5s features the all new iOS7 operating system pre-installed. iOS7 features totally re-styled sleeker icons and layout (reminiscent of Windows 8 in our opinions – a lot more solid colors), updated control and notification centers, enhanced internal search and updated Siri which features far more information, including Wikipedia. It also has updated multitasking, photo viewing, many camera enhancements, revamped Safari and the new AirDrop sharing feature. If you are currently on iOS6, then you can update from 18th September 2013.
The clamour for the new handset across America (and the rest of the World) will undoubtedly be enormous, this means that there will also be an enormous amount of old iPhones and cell phones being replaced and discarded. It will be available to buy from September 20, If you have your heart set on a new iPhone 5s with all its wondrous features, make sure you sell your old cell through us. We compare America's most reputable recycling companies so that you get a great price from a company you can rely on.
Simply search for the model you wish to sell using our search function.