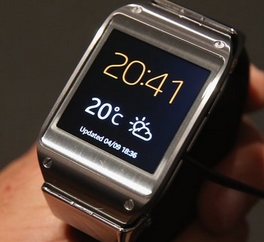 With the Samsung Gear smart watch looking set for a September 25th launch, there are a lot of people asking "what does a smart watch actually do?", "is it worth me getting one?" and "does it replace a smart phone?" Well, here's the lowdown….
We will focus on the Galaxy Gear as that's the imminent release and the talk of the industry, but it is understood that other manufacturers such as Apple, Sony (called SmartWatch), Motorola (rumoured to be Pebble) and even Qualcomm (the Toq) are also readying smart watches for launch. As the name suggests, you will also need a Samsung Galaxy android cell phone to accompany your new smart watch, it is not a direct phone replacement. It is synced to your cell using Bluetooth and a dedicated app. At present it will only work with the upcoming Galaxy Note 3 which is scheduled for launch the same day but future updates will make it compatible with other models.
Galaxy Gear smart watch features
As with other prototypes we have seen, the Galaxy Gear looks like a big chunky sexy fashion watch, but it's packed with cool features. When working in synch with your phone, the Gear with allow you to:
Make and receive calls
Send and receive text messages
Check emails
Calendar alerts
Act as a wireless remote control for your music
All of this without the need to take your cell phone out of your pocket!
It also carries standalone features that don't require connecting to your cell phone to use. Aside from acting as a regular watch (as you would expect!), it has a built in pedometer, gyroscope and accelerometer, voice recorder, 2 megapixel camera and camcorder functionality along with 4GB of internal memory.
Smart Watch usability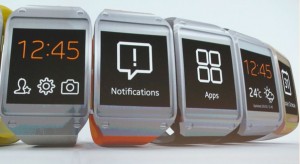 The screen of the smart watch is a capacitive touchscreen which like most smart phones, is swipe to open.  The 1.63 inches and is simple to use, Samsung claim that on launch, there will be over 70 apps optimised specifically for the Gear including Evernote, eBay, MyFitnessPal, Pinterest and a social media app called Banjo which will handle your Facebook and Twitter. There are several home screens available a host of customisable settings.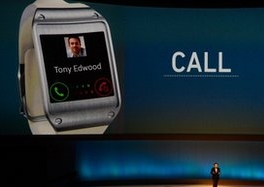 As an addition to your smart phone, we are sure that many people will be clamouring for the Galaxy Gear smart watch upon its release, it is expected to launch in over 100 countries on September 25th, with more released scheduled for October. As with any new technology, I am sure there will be initial glitches with functionality, but that won't stop consumers from splashing out on one as soon as they are released. Retail price for the US is rumoured to be $299, so far cheaper than a Rolex with far more functionality!
With most major cell phone manufacturers readying smart watch releases, this looks like it really could be the next big thing. As soon as we have more smart watch news we will let you guys know.
If you are thinking of selling your current cell phone to get a new one with smart watch compatibility, be sure to recycle it right here. We compare America's most reputable recycling companies so that you get a great price from a company you can rely on. Simply search for the model you wish to sell using our search function.