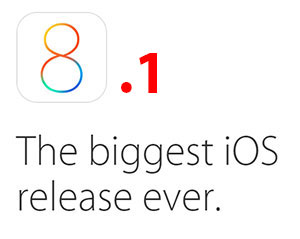 Apple's latest operating system update – iOS 8.1 is now available for download for anyone with iOS 8 compatible devices and comes with a few new features, improvements and the usual bug fixes.
It also comes with an old feature added back in which I am very happy (and quite proud about):
iOS 8.1 brings Camera Roll back!
You may remember my review of the iOS 8 update here and my one big gripe – they had deleted the Camera Roll folder, a folder that I used a lot! To say I was a tad annoyed was an understatement but it seem that I wasn't the only one unhappy with this. Apple have quickly brought Camera Roll back with the iOS 8.1 update so I am very happy.
Not enough space to install iOS 8.1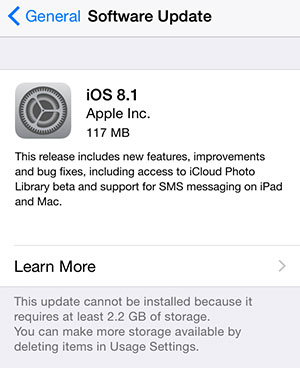 Before we get in to the nitty-gritty of what's new, like most people you will probably get the dreaded 'not enough space to install update' message when looking to install. Despite the update only being 117MB in size, you actually need 2.2GB of free storage space in order to install it wirelessly. Nobody's got that, right!
To solve this problem, if you install the update through iTunes and USB on your computer, you need far less space, and it's also quicker. I had 900MB available on my iPhone and it installed fine using this method, and took less than 10 minutes from start to finish.
iOS 8.1 update features
Here's an overview of what's new aside from the usual bug fixes that Apple include in all updates:
Photos now has iCloud Photo Library as a beta service
Camera Roll album has been added back in to Photos
Provides alerts when running low on space before capturing time lapse videos
Messages now has the ability for iPhone users to send and receive SMS and MMS text messages from their iPad and Mac
Adds AirDrop support for Passbook passes
Adds an option to enable Dictation in Settings for Keyboards, separate from Siri
Enables HealthKit apps to access data in the background
There were lots of bugs reported in the original iOS 8 release, it looks like Apple have done their best to address most. Fixes include:
Resolves an issue where search would sometimes not display results
Fixes a bug that caused read messages to not be marked as read
Fixes issues with group messaging
Resolves issues with Wi-Fi performance that could occur when connected to some base stations
Fixes an issue that could prevent connections to Bluetooth hands-free devices
Fixes bugs that could cause screen rotation to stop working
Adds an option to select between 2G, 3G or 4G LTE networks for mobile data
Fixes an issue in Safari where videos would sometimes not play
Fixes a bug where VoiceOver would not work with third-party keyboards
Improves stability and audio quality when using MFi Hearing Aids with iPhone 6 and iPhone 6 Plus
Fixes an issue with VoiceOver where tone dialling would get stuck on a tone until dialling another number
Improves reliability when using handwriting, Bluetooth keyboards and Braille displays with VoiceOver
Selling your Apple device or thinking of getting one?
If you are considering getting an iPhone or an iPad, remember to sell your current device right here. You can get $100's of dollars and we only compare prices from trusted and reputable buyers.
Simply search for your model using our search function or 'Brand Search' to select your device and see the latest recycling prices.