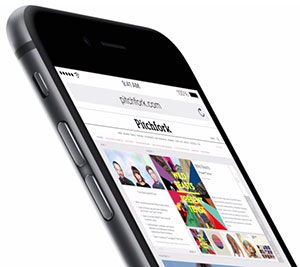 Now that the Apple Event furore has died down and before their release on the 19th September, I thought it would be a good time to bring you the iPhone 6 and iPhone 6 Plus official specifications and details. There is certainly a clamour for these new iPhone's, Apple say there were 4 million pre-orders on the first pre-order date! Near the bottom of the article is a table detailing the iPhone 6 and iPhone 6 Plus official specifications from Apple along with some other information.
iPhone 6 – is bigger better?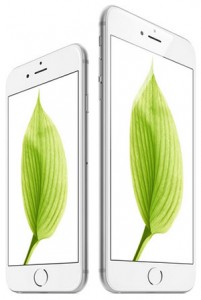 They both look very nice indeed but don't offer a great deal more than the iPhone 5s with the exception of screen size. Both are larger than the current iPhone 5s screen size of a diagonal 4 inches.
The standard iPhone 6 has an increased screen size of 4.7 inches and the iPhone 6 Plus screen is a whopping 5.5 inches. To be honest, I think I will plump for the standard iPhone 6 myself, I think that a slightly larger screen size will be a welcome improvement.
I think the iPhone 6 Plus will be a bit too large for my needs though, it is approaching the iPad Mini and isn't something that I feel I need.
iPhone 6 and 6 Plus – no Sapphire Glass screen
Unfortunately, one prediction that did not become reality was the introduction of Sapphire Glass to protect these larger screens, Apple have again used Sapphire Glass in small doses, limiting it to the fingerprint ID sensor and the rear camera lens. Better invest in a screen protector, particularly if you are going to be squashing a 5.5inch screen in to your pants pocket!
The new iPhones have a better battery life (kind of)
As you will know from one of my older posts, one big gripe I have with the iPhone 5s is battery life. I could do without having my battery run flat on a daily basis. Apple have again given with one hand and taken away with the other when it comes to improved battery.
The iPhone 5s offers talk time of up to 10 hours on 3G and standby time of 250 hours. The iPhone 6 offers a very moderate improvement of talk time of 14 hours and again 250 hours of standby. The iPhone 6 Plus though does offer a vast improvement, talk time on 3G is 24 hours and standby time is an impressive 384 hours! "If only they could squash that power in to the standard iPhone 6" I hear you all cry. I agree.
Here's a side by side iPhone 6 and iPhone 6 Plus official spec comparison of what the two new handsets have to offer, so that you can make an informed decision on whether the iPhone 6 or the iPhone 6 Plus is right for you.
iPhone 6 and iPhone 6 Plus official specifications
iPhone 6 official spec

iPhone 6 Plus official spec

Colors
Silver, Gold or Space Gray
Silver, Gold or Space Gray
Memory and
16GB $199
16GB $299
price
64GB $299
64GB $399
128GB $399
128GB $499
Weight
129 grams
172 grams
Size
138 x 67 x 6.9mm
158 x 78 x 7.1mm
Screen
4.7 inch Retina HD
5.5 inch Retina HD
Resolution
1334 x 750px 326ppi
1920 x 1080px 401ppi
Chipset
A8 and M8 processors
A8 and M8 processors
Camera
8MP iSight
8MP iSight
Video recording
1080p HD
1080p HD
Battery
14 hours 3G talk time
24 hours 3G talk time
10 days (250 hrs) standby
16 days (384 hrs) standby
10 hours 3G internet usage
12 hours 3G internet usage
50 hours audio playback
80 hours audio playback
Operating system
iOS8
iOS8
Carriers
AT&T, Sprint, T-Mobile, Verizon
AT&T, Sprint, T-Mobile, Verizon
Release date
19th

September 2014

19th

September 2014
All other details are the same as the previous iPhone 5s release.
One impressive thing of note is that Apple will no longer make a 32GB model of either handset, for the extra $100 you would pay for a 32GB in the past you now get the 64GB.
As I said earlier, I will be going for the standard iPhone 6, I don't need a phablet sized screen. I just wish that they'd improved the battery life on the lower model as they have on the Plus. Surely, solar charging can't be far away – Casio have been sticking it in their calculators for 30 years!
Have you ordered your iPhone 6 or iPhone 6 Plus yet?
If the specs above have convinced you to invest and you are looking to sell your current cell phone so that you can get the iPhone 6 or iPhone 6 Plus then you can recycle it for cash right here. You can get $100's of dollars and we only compare prices from trusted and reputable recyclers. 
Simply search for your model using our search function or 'Brand Search' to select your device and see the latest recycling prices.