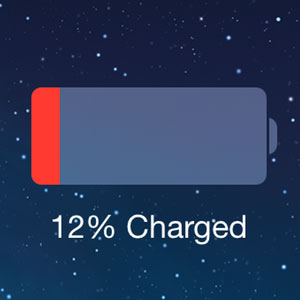 The iPhone 6 is fast approaching if all of the chatter, hints and leaks are to be believed. In keeping with previous launches, I expect it to be unveiled in September and to come with a few new snazzy features that will undoubtedly appease the masses (yours truly included).
There are all manner of rumors on what the iPhone 6 features will be, ranging from unbreakable and scratch resistant Sapphire Glass screen (as trialled on the fingerprint sensor of the iPhone 5s), enhanced processor and eye tracking sensor technology right through to liquid metal interior components to help make the phone super thin.
But, if Apple are listening (I am sure they are not) then there is one iPhone 6 feature on my wish list. That's right – just one, and it isn't a 98 trillion megapixel camera or the ability to turn the lights off in my bedroom with gesture control.
You ready for this, it's a biggie…. My one wish for the next super-duper iPhone 6 feature is……….
LONGER BATTERY LIFE!!
That's it. That's all I want. I can live without enhanced pixels and all of the other bells and whistles, I simply want an iPhone that I don't have to charge twice daily! Don't get me wrong, I love my iPhone 5s, it does everything I need and I use it a lot, particularly for checking emails and surfing the net on WiFi and 3G which are obviously the most battery sapping features. I am sure these are what most people use their iPhone for (making and receiving calls is surely a given) so MAKE THE BATTERY LAST LONGER PLEASE.
iPhone 6 feature – longer battery with solar charging?
Battery life has improved to some extent over the years but charging twice daily is simply not practical in today's information-focussed world. Now, I am no cell phone manufacturing expert but surely if you can make a battery last for 20 hours, a manufacturer should be able to make it last for 60 or 80 hours? What would be really cool would be some form of solar charging to enhance the battery life, but maybe I am reaching in to the realms of fantasy here? Or maybe not, seeing as Casio have managed to incorporate solar charging in to their calculators for the past 30 years. Surely it can't be far away.
I have tried all of the usual tips to extend the battery life, turn off push messages and notifications, close down background apps and disable background app refresh  etc  and I appreciate that powering a retina display uses a lot of resource but surely the time is nigh for Apple to produce a phone with an outstanding battery. That's my wish for an iPhone 6 feature and the day it comes true I will be a very happy man! Feel free to let me know what yours is below.
If you have any tips for extending battery life on an iPhone 5s that aren't included above then I would love to hear them so don't hesitate to get in touch.
If you are looking to sell your iPhone (or any other phone or tablet) then you can recycle it for cash right here. You can get $100's of dollars and we only compare prices for trusted and reputable recyclers.
Simply search for yours using our search function or 'Brand Search' to find your device and see the latest recycling prices.