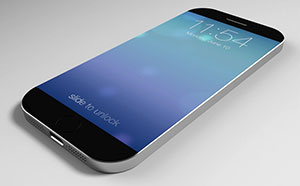 There's no doubt that a new iPhone will be on its way this year and the iPhone 6 rumor mill is really starting to pick up speed with predictions of a May 2014 launch rather than the usual September release date. Maybe I should start calling it the 'iPhone Air' rather than the iPhone 6 as that is one of the current predictions based on the moniker of the latest iPad release.
Savvy internet marketers have long predicted the release of the iPhone 6 with most related domain names all bought up. A quick check on domain name auction site Sedo will show just how many people are pinning their hopes on the name 'iPhone 6', even the URL www.iphone-6.co.uk is currently available at auction after being originally purchased as far back as February 2011!
But stepping aside from what the new iPhone is going to be called, some of the functionality predictions sound pretty cool to me. The main one is the replacement of the current scratch-attracting screen with Sapphire Glass. Sapphire is one of the strongest elements in existence with only Diamond it's superior and is considered to be unbreakable. Many of you may already be aware that Apple are currently trialling Sapphire Glass already, the fingerprint sensor home button on the current iPhone 5s is made of this, so this rumor is likely to become reality. Due to the materials high cost, I hope this won't increase the end sale price, I predict not as new iPhone models are usually released at the same cost of their current ones.
An increase in screen size is also predicted as Apple try to rival Samsung in this area. Apple's stance has always been pretty demeaning of large screen cell phones but that didn't stop them subtly increasing the screen length for iPhone 5 onwards and then claiming that this was the perfect size for a user. An increase in battery life will also be a certainty, the charge cycle of the current iPhone 5s and iPhone 5c leaves a lot to be desired, daily charging is a necessity for yours truly.
iPhone 6 features
There seems to be a never ending stream of potential features that the iPhone 6 will contain. Some sound plausible, others far too outrageous, here's our pick of the most likely:
Unbreakable Sapphire Glass screen
Larger screen (4.7inch or 5.5inch) to rival Samsung
Increased battery life
Full width frameless screen
Enhanced A8 micro processor
iOS 8 (sorry, I know this is a given!)
Screen embedded sensors for onscreen fingerprint scanning
Eye tracking sensor
Liquid metal components, allowing for the phone to be even slimmer
All will be revealed in the coming months, as soon as I have more details, you will be the first to know!
If you are looking to buy or sell the current iPhone then you can recycle your handset for cash right here. You can get $100's of dollars and we only compare prices for trusted and reputable recyclers.
Simply search for the model cell phone you wish to sell using our search function or 'Brand Search' to select your device and see the latest recycling prices.
Enter our competition to win an iPad Mini
Also, don't forget to enter our competition to win an iPad Mini, we are giving three away and there is no question to answer. Simply Like us on Facebook, Follow us on Twitter or Add us on Google Plus for a chance to win. Or do all three to treble your chances, it only takes a few seconds. T's and C's can be found here.