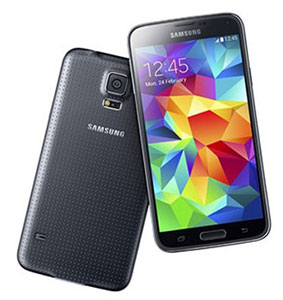 As I told you a few weeks ago here, the Samsung Galaxy S5 was unveiled at the Mobile World Congress event yesterday along with a whole host of other handsets and smart watches from some of the World's leading manufacturers. The S5 was the standout turn though and it is easy to see why, the Samsung Galaxy S5 specs, although not ground breaking, are yet another step up. They have taken the S4 and enhanced it across the board to create another handset that I am certain will appeal to the masses.
I am pleased to say that I got most of the predicted specifications correct, although I was slightly off on the name 'SV' rather than 'S5' – darn those Roman numerals! I was also a fraction out on the size increase too, its only 5.1 inch rather than 5.2 inch but I did call the on-board fingerprint scanner and 16 megapixel camera.
Here's the Galaxy S5 specs in full:
Samsung Galaxy S5 specs
Dimensions are 142mm x 72.5mm x 8.1mm
Weight is 145g (15g more than its S4 predecessor)
Available in 16GB and 32GB models
Available in a choice of colors – Electric Blue, Charcoal Black and Copper Gold
5.1 inch full HD Super AMOLED touchscreen display
16 megapixel camera with 0.3 second autofocus (the fastest ever on a smartphone)
4K video recording
Home button fingerprint scanner lock/unlock (wonder where they got that idea from!)
Built in hear monitor which works with the Samsung S-Health 3.0 app
Increased batter life with 2800mAh battery (200mAh larger than the S4)
Ultra Power Saving Mode (converts to black and white screen to save power)
Android 4.4.2 KitKat operating system
2.5GHz quad-core Qualcomm Snapdragon microprocessor
2GB of on-board RAM
USB 3.0 connectivity
Compatible with current and new Samsung smart watches
Available to buy from April – register your interest on the Samsung site here
No official price has been made available yet
There are a lot of S5 technical specifications to digest, most seem pretty standard but it is certainly a step up from the Galaxy S4 which sold well and I am sure that the S5 will continue to appeal to Samsung fans and new customers alike.
If you are going to be purchasing the Galaxy S5 when it becomes available in April then you can recycle your current handset for cash right here. It could be worth $100's of dollars and we only compare prices for trusted and reputable recyclers.
Simply search for the model cell phone you wish to sell using our search function or 'Brand Search' to select your device and see the latest recycling prices.
Enter our competition to win an iPad Mini
Also, don't forget to enter our competition to win an iPad Mini, we are giving three away and there is no question to answer. Simply Like us on Facebook, Follow us on Twitter or Add us on Google Plus for a chance to win. Or do all three to treble your chances, it only takes a few seconds. T's and C's can be found here.