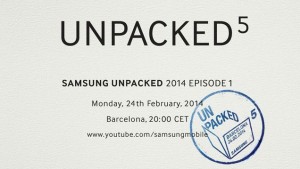 It is anticipated that the Samsung Galaxy SV launch date will be this month after Samsung sent out invitations to a media event scheduled for the 24th February to be held in Barcelona. The cryptic invites are titles "Unpacked5" and the flagship smartphone looks like being the star of the show at the Mobile World Congress event that will kick off at 8pm CET and is going to be streamed live on YouTube.
The Galaxy S4 was a big seller but many deemed it too similar to the S3 model so it is hoped that the Galaxy SV (or S5 if you prefer) will be far more cutting edge to attract even more consumers hungry to get their hands on the most advanced cell phone available on the market. Samsung's executive Lee Young Hee admitted as much in a recent interview, stating "For the S5, we will go back to the basics. Mostly, it's about the display and the feel of the cover". This sounds like a fair starting point for a new handset but in my opinion it may take far more than that for it to really wow prospective customers.
Galaxy SV launch date – what to expect
With Apple setting the bar high in terms of specification (although for many everyday users these differences are minimal) with the introduction of the first 64-bit processor in a smartphone combined with separate additional chip and fingerprint sensor security with their iPhone 5s model, Samsung know they need to come up with something special.

It is rumored that when unveiled at the Galaxy SV launch, it will push screen boundaries further than ever before with a 5.2 inch 565 ppi display, 16 megapixel camera and also the introduction of a fingerprint scanner (cue another lawsuit!), although other rumors are of an iris rather than fingerprint scanner. Another feature getting a full revamp is thought to be the user interface which based on some online leaks is going to be much simpler and cleaner (iOS7 anyone?)
The standout feature rumor though for the Galaxy SV launch date is the addition of 3D gesture recognition, this could be the feature that sets Samsung apart again from its competitors.  At the moment, this is all just speculation, all will be revealed on the 24th February, let's hope it doesn't disappoint.
If you are thinking of getting the Samsung SV when it is launched, then you can recycle your current handset for cash right here. It could be worth $100's of dollars and we only compare prices for trusted and reputable recyclers.
Simply search for the model cell phone you wish to sell using our search function or 'Brand Search' to select your device and see the latest recycling prices.
Enter our competition to win an iPad Mini
Also, don't forget to enter our competition to win an iPad Mini, we are giving three away and there is no question to answer. Simply Like us on Facebook, Follow us on Twitter or Add us on Google Plus for a chance to win. Or do all three to treble your chances, it only takes a few seconds. T's and C's can be found here.