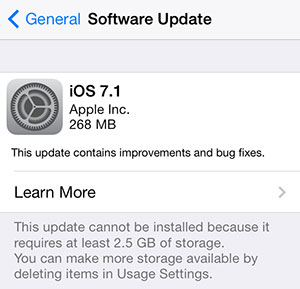 The iOS7.1 download is now available for all iPhone, iPad and iPod users that have compatible devices (iPhone 4 onwards) and it's the biggest upgrade to iOS7 since its launch six months ago.
As well as a host of security flaw, bug and stability fixes, the iOS7.1 download includes some feature enhancements, although some will only apply to the top end models. Some of the iOS7.1 features are pretty cool, for example, Apple has recognised that the chipset in the iPhone 4 is not as advanced as the latest models so has streamlined the iOS7 functionality to ensure that it runs as quickly as possible.
There is a little tweak to Siri so that you can keep your finger on the home button while you speak so that it knows that once you release it you have finished your command. In some countries, Siri also gets a female voice, should you wish to change from the authoritative male that we have become so accustomed to. Apple also state that the iPhone 5s fingerprint scanner is now more accurate with the iOS7.1 download which should lead to fewer rejections. Mine always seems to fail immediately after I have used my computer mouse which has a rubber patch on the side, does anybody else have this issue? Again for iPhone 5s users, there is a camera update.
Car Play is also integrated in to the update, this was unveiled last week by Apple at the Geneva Motor Show and syncs with the new car dashboard that was unveiled on some top end models (I don't think most will have to worry about this for a while).
iOS7.1 download overview
Here's my pick of the latest updates:
Updated circular icons (see when you get a call)
Calendar enhancements
Search integrated in to iTunes Radio
Reduce motion and bold font options
Hold and release Siri control
Female Siri voice option
Fingerprint sensor improvements on iPhone 5s
Automatically enabled HDR camera enhancement on iPhone 5s
Car Play integration
A mass of bug and security fixes
Bonus iOS7.1 download tip!
You may remember that I gave this little tip out when talking about the iOS7.0.3 update a while ago but it is still relevant for this update. If you try to install the update over Wi-Fi, you need to have 2.5GB of free storage on your device for it to download and install (who has that amount free?!?!). If you plug your device in to your PC and install it through iTunes, you only need to have around 1GB of storage free, it's also faster.
If you are looking to buy or sell your iPhone, iPad or iPod then you can recycle your handset for cash right here. You can get $100's of dollars and we only compare prices for trusted and reputable recyclers.
Simply search for the model cell phone you wish to sell using our search function or 'Brand Search' to select your device and see the latest recycling prices.
Enter our competition to win an iPad Mini
Also, don't forget to enter our competition to win an iPad Mini, we are giving three away and there is no question to answer. Simply Like us on Facebook, Follow us on Twitter or Add us on Google Plus for a chance to win. Or do all three to treble your chances, it only takes a few seconds. T's and C's can be found here.