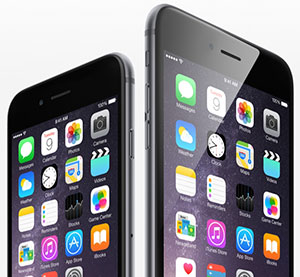 Well it's finally happened and to be honest it was pretty much as most insiders had predicted. Apple's launch event took place in Cupertino on Tuesday and to much fanfare there was the grand unveiling of two new iPhone's, a new iOS8 operating system and the much, much, much rumored iWatch. Oh, and U2 made an appearance to plug their new album too – friends in high places and all that! Here's a summary of the Apple launch event details and highlights.
Apple launch event details – iPhone 6 and iPhone 6 Plus
As was predicted, Apple unveiled two new iPhones. There had been much speculation regarding the names of these devices, iPhone Air, iPhone 6L etc. In the end Apple stuck to their conventional numbered naming system with the release of the iPhone 6 and iPhone 6 Plus. The leaked pictures over the past few months had also proved to be accurate with the phones looking pretty thin and space aged whilst also giving a nod back to the original iPhone and 3G/3Gs models with some sexy curvature.

iPhone 6 details overview
Two new handsets – iPhone 6 with a 4.7 inch screen and iPhone 6 Plus with a 5.5 inch screen (both a notable increase on the iPhone 5s 4 inch screen)
Three colours to choose from: Silver, Gold and Space Gray
Available in 16GB, 64GB and 128GB models
Thinner than the iPhone 5s (7.6mm), the iPhone 6 is 6.9mm and the iPhone 6 Plus is 7.1mm
New A8 and M8 processors
Retina HD display – 1334×750-pixel resolution at 326 ppi on the iPhone 6 and 1920×1080-pixel resolution at 401 ppi on the iPhone 6 Plus
Improved battery life, particularly on the iPhone 6 Plus. The iPhone 5s offers talk time of up to 10 hours on 3G and standby time of 250 hours. The iPhone 6 offers a very moderate improvement of talk time of 14 hours and again 250 hours of standby. The iPhone 6 Plus improves on this greatly though, talk time on 3G is 24 hours and standby time is an impressive 384 hours!
Available on AT&T, Sprint, T-Mobile and Verizon
On a two year deal the RRP for the iPhone 6 Plus is 16GB $299, 64GB $399, 128GB $499
On a two year deal the RRP for the iPhone 6 is 16GB $199, 64GB $299, 128GB $399
Release date is September 19th, you can pre-order from September 12th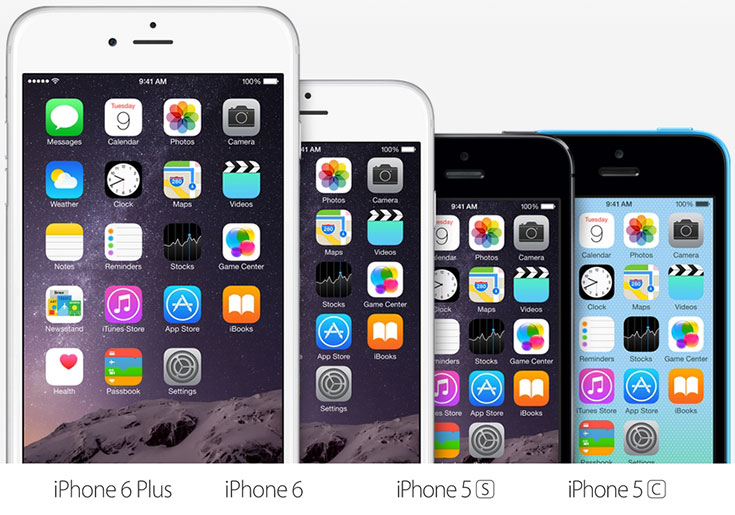 Apple launch event details – Apple Watch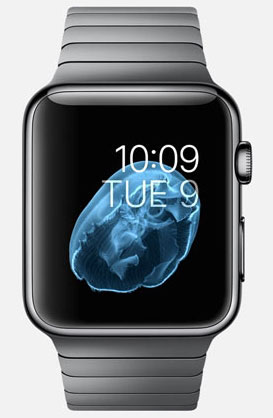 It's finally here, the much anticipated iWatch, sorry 'Apple Watch' to give it its official title. A device that nobody actually wants, has asked for or is likely to use. But what do I know, they said that the iPad would never catch on! As watches go, it looks very nice and is available in a range of styles including a standard version named Watch, Watch Sport and Watch Edition. It isn't scheduled for release until next year though and Apple were particularly shy in revealing its battery life. Based on the current smart watches out there, the battery will last a day and require lots of charging, one thing that you really don't need from a watch.

Apple Watch details overview
Available in 3 styles called Watch, Watch Sport and Watch Edition. Watch has stainless steel or space black stainless steel cases, Sapphire crystal screen and a range of stylish metal straps. Watch Sport has anodised aluminium cases in silver or space gray, strengthened Ion-X glass and colourful, durable straps. Watch Edition has 18-carat gold cases in yellow or rose, Sapphire crystal screen and various strap/closure options.
Time setting is automatic and GPS powered
Range of watch faces
Relays and allows you to respond to messages, calls, mail and notifications from your iPhone
Heavily geared towards fitness with all-day fitness functionality
Built in accelerometer, heart rate sensor, GPS and Wi-Fi to track your movements
Range of bespoke apps
RRP will start from $349
Release date is scheduled for early 2015
Apple launch event details – iOS8

As you'd expect from an Apple launch event, they also demoed their new iOS8 operating system which was plugged as 'the biggest iOS update ever'.  Bold words indeed.
iOS8 details overview
Fully revamped Photos app with enhanced editing options
Add recorded voice and maps to messages
Sentence auto-complete options based on previous conversations with different people in messages and mail (this does sound pretty cool)
Interactive notifications
New shortcuts to favourite contacts
Revamped Mail interface
Sharing between six people per household of iTunes, iBooks and App Store purchases
New Health app with activity tracker and heart rate monitor
Compatible from iPhone 4s, iPad 2 and iPod Touch 5th gen onwards
Release date is September 17th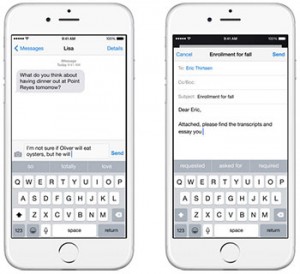 Hope that sums up all that you need to know. I will be bringing you more in-depth looks at the iPhone 6, iPhone 6 Plus and Apple Watch in the coming days, along with an iOS8 review after its release later in the month.
Thinking of getting an iPhone 6 or iPhone 6 Plus?
In the meantime, if you are looking to sell your current cell phone so that you can get one of the new handsets then you can recycle it for cash right here. You can get $100's of dollars and we only compare prices from trusted and reputable recyclers. Remember, the sale value of many cell phones is likely to drop in the coming weeks due to the new releases so it pays to recycle early.
Simply search for your model using our search function or 'Brand Search' to select your device and see the latest recycling prices.