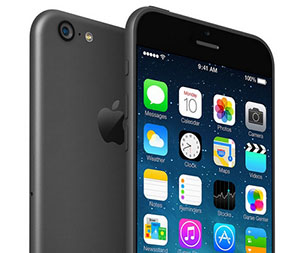 As most people in the modern world are aware, there's an Apple event taking place today. Although there's not been any official line from Apple themselves, it is 99.9% certain that the event will be the grand unveiling of the iPhone 6 handset, along with several other new products for all you Apple lovers out there. If you are wondering how or where to watch the iPhone 6 launch then look no further for information.
Watch the iPhone 6 launch live
You can watch the iPhone 6 launch live on the Apple website at www.apple.com/live or by clicking the image below. As you can see by following the link, Apple have set up a very exciting countdown clock and the event is scheduled to transmit from 10am PDT.

Unfortunately, if you aren't currently an Apple product owner, you won't be able to watch live as the site also carries this additional small print:
Live streaming video requires Safari 5.1.10 or later on OS X v10.6.8 or later; Safari on iOS 6.0 or later. Streaming via Apple TV requires second- or third-generation Apple TV with software 6.2 or later.
If you do have an Apple device, also ensure that the software is up to date to enjoy the most seamless experience.
What to expect from the iPhone 6 launch
If you aren't currently an Apple owner, don't worry, I will be printing a full recap of the products and software that was unveiled on the blog tomorrow.
Rumors of what is to be unveiled have been doing the rounds for over a year, here is a quick recap of what is expected to be announced:
iPhone 6, or possibly two iPhone 6's, one with a 4.7 inch screen and one with a considerably larger 5.5 inch screen. Both are expected to be thinner than the current model with an improved battery live, enhanced camera and faster processor along with having (supposedly) unbreakable Sapphire Glass screens.
iWatch with a curved glass screen which will sync with the new HomeKit (control of home devices) and HealthKit (fitness) applications.
iOS8 operating system (as you would expect) which Apple have claimed will be "the biggest release since the launch of the App Store, giving users incredible new features and developers the tools they need to create amazing new apps."
For more information, you can also check out our blog post from August 29 titled 'Apple iPhone 6, iWatch and iPad Air 2 rumor round up'.
Sell your cell phone to get the iPhone 6
Don't forget, if you are looking to sell your current cell phone so that you can get the iPhone 6 then you can recycle it for cash right here. You can get $100's of dollars and we only compare prices from trusted and reputable recyclers. Remember, as soon as the new iPhone is released, the sale value of many cell phones is likely to drop so it pays to recycle early.
Simply search for your model using our search function or 'Brand Search' to select your device and see the latest recycling prices.