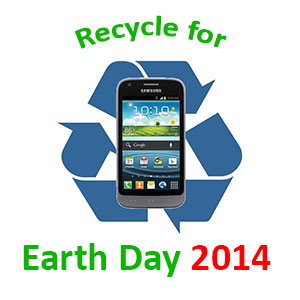 Earth Day 2014 will take place on April 22, it is the perfect incentive to sell old electronics and cell phones and finally do that bit of gadget decluttering that you have been planning for months. Over a billion people in 190 countries will take action on Earth Day this year – all in aid of making our World a better and more environmentally friendly and sustainable place to live.
Environmentally conscious folk the world over will be doing their bit, from planting trees, cleaning up their community, holding recycling fundraisers and raising awareness of the vital importance of ensuring that we make changes to help ensure that our Earth remains a habitable place for centuries to come. We should not underestimate and take for granted that this will happen, we need to maintain and improve on the amazing work that many people have been doing and promoting for many years.
The theme of this year's Earth Day is 'Green Cities', with investments in sustainable technology and forward-thinking public policy a core focus. Along with the fundraising and clean-ups that will be in progress, everybody can help, even if that means being aware that throwing old electronics, cell phones, broken computers and other recyclable goods in the trash will have a negative impact on the world we live in. Trash = landfill, and this cannot carry on forever, the more we recycle, the better it is for all of us. Many people are unaware that their broken cell phone, iPod or PC can actually be sold to a recycler who will pay cash for it, surely that is a much better way to dispose of your old items?
If you actively look to sell old electronics, you can raise hundreds of dollars for yourself, your local community, charity or club and even if no price is on offer, recycling in an environmentally responsible way will ensure that their parts are broken down and reused rather than just being discarded. It is a win-win situation for everyone.
Top 5 reasons to sell old electronics and cell phones
It keeps them out of landfill and you know they will be disposed of in an environmentally friendly way
Working items can be resold for other people to enjoy
Broken items can be stripped down of valuable parts which can then be recycled and reused
Declutter your home of all those items you no longer use
You can get hundreds of dollars
It is never too late to start recycling, make the change for Earth Day 2014, no matter how small your gesture, it will go towards making a better future for all of us.
If you are looking to sell old electronics, cell phones, tablets or iPods then simply search for your make and model using our search function or 'Brand Search' to select your device and see the latest recycling prices.
The more we recycle, the better our world will be!
Enter our competition to win an iPad Mini
Also, don't forget to enter our competition to win an iPad Mini, we are giving three away and there is no question to answer. Simply Like us on Facebook, Follow us on Twitter or Add us on Google Plus for a chance to win. Or do all three to treble your chances, it only takes a few seconds. T's and C's can be found here.