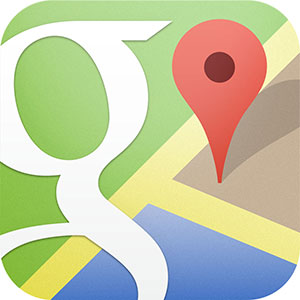 For many of us, Google Maps is the navigation tool of choice so the incorporation of faster routes updating with the latest Google Maps update can only be a good thing as we try to get from A to B as efficiently as possible. There aren't many features that would drastically improve Google Maps but faster routes is one. Automatically advising me of a faster route once it realises I am at crawling pace is a feature many of us will come to rely on.
Available for both iOS and Android handsets, the Google Maps update is surely another positive move for navigation software that I have to say, leaves its competitors in its wake. Provided you have the signal, the 3G or 4G data allowance and the battery power in your cell phone, then there is no reason to be using a conventional satellite navigation system by Garmin, Magellan or any other manufacturer in this humble writers opinion. I used to have a Magellan Maestro which did the job to a certain degree, the main problem though was that some of the routes quickly became out of date when roads were changed, it had an 'update maps' function but that required me remembering to take it out of the car and plug it into my PC when I got home, plus I never ever seemed to be able to find the USB lead for it!
Google Maps update – still the market leader
Google Maps came along and 'BAM!!' blew people away with its accuracy, efficiency and also the fact that it was (and still is) totally free. Back in the day, a top GPS system from Garmin would have set you back hundreds of dollars. Anyone with an iPhone will know that Apple are continually trying to take a big share of the mapping market from Google but their Apple Maps just isn't up to scratch at the moment. It has some cool features but is ultimately let down by the most important aspect of a good GPS system – its accuracy. The stories of entire towns going missing and Apple trying to guide you straight in to a lake to get to your destination are widespread and much documented. It just cannot compete with Google Maps. I don't know any iPhone users (myself included) who use it ahead of the Google Maps app.
If you haven't got the latest Google Maps update yet, then what are you waiting for? Get over there and download it now. If possible, get yourself an in car charger for your cell phone too. Mine has been a lifesaver with the somewhat disappointing battery life on my iPhone 4s. If you are planning on a journey over 4 hours then it will be a necessity.
If your cell phone is old, out of date or not compatible with Google Maps then you can recycle it for cash towards an updated model right here. You can get $100's of dollars and we only compare prices for trusted and reputable recyclers.
Simply search for the model cell phone you wish to sell using our search function or 'Brand Search' to select your device and see the latest recycling prices.
Enter our competition to win an iPad Mini
Also, don't forget to enter our competition to win an iPad Mini, we are giving three away and there is no question to answer. Simply Like us on Facebook, Follow us on Twitter or Add us on Google Plus for a chance to win. Or do all three to treble your chances, it only takes a few seconds. T's and C's can be found here.