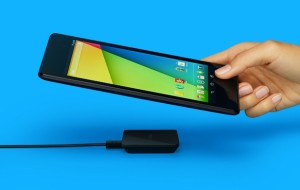 Google have unveiled their Nexus wireless charger across the USA and Canada and it is now available from the Google Play Store. This is big news for those of you with the awesome Nexus tablet or a Nexus smartphone and the Nexus wireless charger will undoubtedly sell well over the holiday period. At a very reasonable $49.99 it is sure to be a big hit as a stocking filler for those of you who already own a Nexus or are looking to receive one this Christmas.
The Nexus wireless charger is compatible with the Nexus 4, Nexus 5 and the Nexus 7 as these have wireless charging capability already built in to them. The name 'wireless charger' is slightly misleading though. You do not have to plug a charger in to your Nexus device but your device does have to touch the surface of the charger for it to charge. The surface is magnetic so your Nexus snaps to it, but if you were thinking that this charger works over a wireless network then that is not the case.
The charger comes with a Micro USB and an AC Adaptor in the box and we found that it charged just as quickly as plugging your Nexus in when we tested it out. The base is also super sticky, no chance of knocking this off your desk!
Nexus wireless charger specs
There isn't much to say in terms of the Nexus wireless charger technical specs, it's small, thin, and light and looks very nice indeed:
Size: 60 x 60 x 12.5mm
Weight: 105g
Color: black
Connection: Micro USB
Power: 9W 1.8A AC Adaptor
Works with: Google Nexus 4, 5 and 7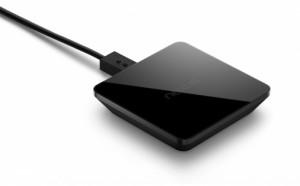 To order, simply go to the Google Play Store although at time of print, stocks are limited, hopefully there will be plenty more coming in to stock over the next few weeks ready to fulfil all of the Christmas orders.
If you are considering buying a Google Nexus at the moment or in the coming weeks then be sure to recycle your old or existing smartphone or tablet through us. You can get $100's of dollars and we only compare prices for trusted and reputable recyclers, that extra money is sure to come in handy at the moment.
Simply search for the model tablet or cell phone you wish to sell using our search function or Brand Search to select your device and see the latest recycling prices.