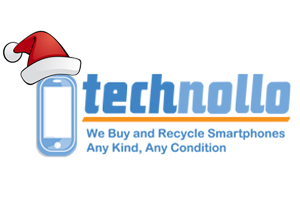 Technollo are one of the most established recyclers in America and their prices are always amongst the highest in the industry. If you are looking to earn some extra cash to put towards Christmas presents over the festive period then recycling your old cell phones and gadgets with them could help put dollars in your pocket.
We know it's a bit early for many of you to be thinking about Christmas but it is only just over 5 weeks away and will soon be upon us. Now is the time to dig out those old phones that you may have lying around gather in dust or hidden away in drawers, those old devices could be earning you money! The sooner you find your old devices and send them off to Technollo, the quicker you will receive your cash. Technollo also offer several payment methods, if you opt to be paid via PayPal or NetSpend, you could receive your cash within 48 hours of your device being received and inspected. If you are considering being paid by check then you had better send your cell phone to them as soon as possible as it can take up to 2 weeks to receive your check which won't leave you much time to get those Christmas presents.
Technollo's cell phone and electronic device database is extensive and their prices are continuously updated in order to make sure that they are always competitive. Whether your cell phone is new, used or broken, you could get a fantastic price. The latest iPhone or iPad's are worth hundreds of dollars each. Recycling with Technollo is also ideal if you are planning on or expecting to receive a new cell phone or tablet for Christmas, the quicker you recycle your old existing one, the more cash you will get.
On the Technollo website you will see prices for cell phones and gadgets from all of the major industry brands from Apple through to ZTE. Technollo are a name you can trust, they have paid out over $1 million to thousands of satisfied customers in recent years.
If you want to earn some extra cash for Christmas, do it through Technollo now! Click here to visit Technollo to see their latest recycling prices and remember to use our exclusive voucher code SMCP10 at the checkout to get an extra 10% added to any offer over $25.