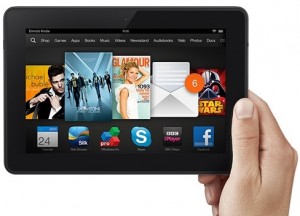 We got our hands on one of these new beauties from Amazon the other day. Here's our first impressions and our review of the Amazon Kindle Fire HDX tablet.
The Kindle Fire HDX that we tested was the 8.9inch version which began shipping a few days ago, there is also a 7 inch version available. Back in the day, the first few versions of the Amazon Kindle were solely designed for reading eBooks and the technical specs and screen resolution reflected this. Battery life was immense but they were limiting themselves in those days. Now though, the Kindle is a fully functioning tablet in every sense of the word, from screen, processor and usability aspects.
We found the Kindle Fire HDX to be an excellent piece of kit. It's as thin as the new iPad Air and like most current top-end tablets, it comes with front and rear facing cameras. It has a Snapdragon 800 Quad-Core processor with 2GB RAM and we must say it was lightning quick; no sluggishness whatsoever. Battery was also excellent, after a full day of pretty much constant use, only 40% of the battery life had been expended, official times from are that it will last 12 hours for multi-use and 18 hours for reading and these seem accurate.
The operating system is customised Android called Fire OS 3.0 'Mojito' and is very slick indeed. The dual cameras were also of excellent quality. 720p HD on the front and 8MP on the back capable of 1080p video recording. The HDX screen is impressive, 2560×1600 with an excellent 339 PPI pixel density for vivid lifelike images that Amazon claim "go beyond standard HD". We must say though that the iPad's Retina display beats this (and any other tablet on the market) in to submission, but that is nothing to be ashamed of.
Browsing is easy and fast and it has inbuilt 'OfficeSuite' for productivity as well as a 'Mayday' button which allows you to instantly connect to Amazon's technical support 24 hours a day 365 days a year.
Kindle Fire HDX specs
Available in 7 inch and 8.9 inch models
Available in 16, 32 and 64GB models
8.9 inch model size is 9.1″ x 6.2″ x 0.31″ (231 mm x 158 mm x 7.8 mm)
2.2GHz Quad-core Snapdragon 800 processor with 2GB of RAM
Fire OS 3.0 'Mojito' Android operating system
Up to 12 hours batter life for multi-use and 18 hours for reading
Available in WiFi only and 4G LTE
Front-facing 720p HD Camera, 8MP rear-facing camera with LED flash and 1080p video recording
Kindle Fire HDX review summary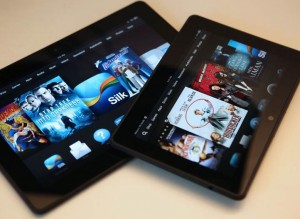 To summarise then, the Amazon Kindle Fire HDX is an excellent tablet alternative to the Apple iPad or their new iPad Air, Google Nexus or any of the other tablets on the market and we highly recommend it. Retailing at $379 for the 8.9 inch 16GB WiFi model, it is also $120 less than the entry level iPad Air.
The Kindle Fire HDX is sure to be popular in the run up to Christmas and we predict it will be a big winner this year. If you are considering buying one for yourself or as a Christmas gift then be sure to recycle your old or existing tablet (or any old cell phones you may have) through us. You can get $100's of dollars for an old tablet from one of our trusted recyclers which will definitely come in handy over the festive holidays.
Simply search for the model tablet, cell phone or device you wish to sell using our search function on the right of the site. If you have an old Kindle that you are looking to recycle in order to buy the latest one, simply click here to see the latest recycling prices.