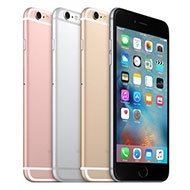 The iPhone 8 release a few weeks ago, combined with the iPhone X release later this month means that this is the perfect time to sell your iPhone 6s for a great price!
For most monthly contract phone owners, their deal is for two years, so there are millions of iPhone lovers out there who come to the end of their two year deal around this time of year. Your two year old iPhone 6s in used condition is worth hundreds of dollars at the moment so it is best to sell now and upgrade to either the iPhone 8 or iPhone X.
Although your phone may still look great, you may have noticed battery issues over the past few months, maybe it isn't holding charge for as long as it did 12 months ago? Like all other batteries, cell phone batteries are notorious for gradually losing their power over time. They only have a limited life span and even if your phone still looks great, after two years, battery problems rear their head and you can find yourself charging your phone daily, or even more than once a day, where previously it would last two days.
Is your iPhone 6s running slower since iOS 11?
New iOS releases, such as the recent iOS 11 update also use more resources than older operating systems, and it's no coincidence that iPhone users who have updated have been complaining about battery drain.
Although it may look to run fine on your older phone, the new iOS is always made for the most powerful handset, and at the moment, that is the iPhone 8 and iPhone X. Now is the time to sell your iPhone 6s and upgrade to the new handset, even if you can't see any physical difference between the old and the new. What's under the hood is where a new phone will beat a two year old phone.
Sell iPhone 6s – get the top price now
If you are looking to sell your iPhone 6s and upgrade, then look no further than us here at SellMyCellPhones.com. We compare prices from many of the top buyers in America so that you can be sure of a high price when you sell your iPhone 6s. Selling takes seconds, simply search for your phone, choose the best price, click 'SELL NOW' and complete a few details. You could be paid within 24 hours of your phone being received!
Obviously, it isn't just the iPhone 6s that we buy, you can find great prices on all iPhone models right up to the new iPhone 8 and iPhone 8 Plus. Sell now and put the cash towards a brand new phone. Prices can drop quickly, this time of year is the perfect time to sell your iPhone for maximum return.
SellMyCellPhones.com – America's original cell phone selling price comparison site.