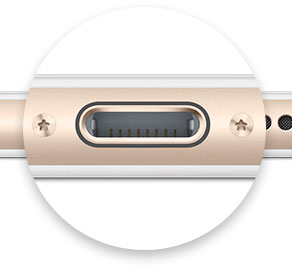 Is your iPhone not charging properly? I'm not talking battery life problems here, I mean have you plugged in to the Lightning port and nothing happens? Or it says it's charging and when you check a few minutes later it isn't?
Well that's what has happened to me the past few weeks, and here's how I fixed it in less than a minute!
The problem – iPhone won't charge properly
About 2 weeks ago I started having charging problems with my iPhone 6s. I've had the phone about 9 months. I'd plug it in and sometimes it would charge fine, other times it wouldn't.
I'd unplug the cable, plug it back in and after 5 or 6 attempts, it would spring in to life and charge. Other times it would say it was charging and then if I checked it a few seconds later, the charging indicator had gone off and it wasn't charging. Most annoying was going to bed thinking it was charging and then waking to find the battery was almost dead with a full day ahead. There seemed no pattern to when or why it was happening.
Changing cables, charging through computer rather than mains adaptor, or anything else I tried made no difference.
I looked around online and someone recommended backing it up, restoring to factory settings and then restoring from backup, as it is often a software rather than a hardware issue. I gave this a try but to no avail.
Next action was to call Apple as it is still under warranty. After half an hour on the phone and a battery diagnostics check that came back OK, their diagnosis was that it may be due to the backup being corrupt. They suggested restoring the phone to factory settings and using it as a new phone with no apps or any other data on it to see if this fixed the problem. It didn't.
Next step was to book in to the Apple Genius Bar for them to solve the issue. But unfortunately, there were no slots available anywhere in my area for the foreseeable future so I had one final check around the internet to see if anyone else had experienced this problem and fixed it.
How to fix the iPhone charging problem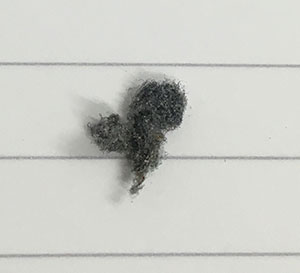 I was glad I had a final check. A Google search of something long and elaborate like "my lightning port iPhone only charges sometimes" found the answer!
The problem was lint in the Lightning port (I usually keep my phone in my jeans pocket). Not software issues, back-up corruption or anything technical, just a bit of old fashioned dust and debris preventing the charging cable from getting a good connection.
I turned my iPhone off, got a paperclip (or you can use a toothpick or something else small and pokey) and had a very gentle swipe around in the Lightning port. I was amazed how much lint came out. The image shows just how much came out with 4 gentle paperclip swipes.
Fired the phone back up and hey presto – problem solved. The connector plugged in with a nice secure click noise too that I realised I hadn't heard for a while, and instantly started charging.
I hope you (and many others) find this post useful, I know that if I'd stumbled across it a week ago it would have saved me a lot of annoyance. Happy charging!
Can't fix it? Sell your iPhone through us
If the fix above doesn't work for you, there may be a deeper, underlying problem. If it is beyond repair, or you are due an upgrade, you can sell your iPhone through us here at SellMyCellPhones.com for top dollar.
We compare more buyers than any other comparison site in America and selling takes a few seconds. Search for you device in our huge database, choose its condition and click 'SELL NOW' next to the top price. Complete your details and wait for your mailer to arrive. Send off your phone and you could have your cash within 24 hours!
Don't delay, sell today, your old iPhone could be worth hundreds of dollars!