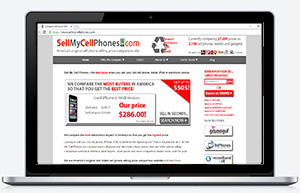 If you are looking to sell your sell phone online, there are a whole host of options, but what are the fastest, safest and most hassle-free?
Most people have got old cell phones lying around the house that they don't use and that can be worth hundreds of dollars. Even broken phones can have a value. The phone buying industry is worth billions of dollars and is putting money in to people's pockets, helping the environment, and reducing the amount of waste in landfill and the resources needed in the production of new phones.
There are a few options if you are looking to sell your cell phone online:
Depending on the make, model and condition, selling your phone on eBay can give you the most cash. It can often come with the most hassle though. If the buyer doesn't think the cell phone is of the condition you believe it is, you could get negative feedback. There can also be comeback if your phone develops a fault and the buyer is unhappy.
Search for a phone buying site
There are hundreds of phone buying websites on the internet if you search around and some great prices to be found. There are drawbacks though – how do you know that the price you are getting is the highest out there? How do you know that the company is trustworthy and reputable?
Using a phone buying comparison site will help you sell your phone online for the highest price. That's where we come in….
The safest place to sell your cell phone online
There are a few comparison sites online but we are the original. We've been comparing phone buyers online since 2010 and currently compare more buyers than any other site in America, despite what the other sites may claim. This means the biggest database of phones and the highest prices are right here in one place.
Selling takes seconds and we are partnered with the independent review website TrustPilot so that you can see real reviews from real customers.
If you have a phone to sell online, give us a try now.