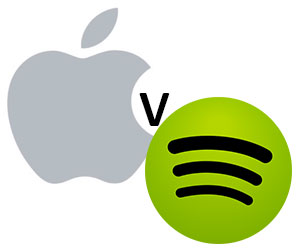 The music streaming battle has begun. Apple announced Apple Music this week and then followed this with a new iOS 8 update incorporating their new music streaming service. Everyone knows that when Apple does something, they do it with style. But style aside, are there many other reasons to switch from Spotify?
Here's my take on the Apple Music v Spotify battle.
Apple Music v Spotify comparison
| | | |
| --- | --- | --- |
| | Apple Music | Spotify |
| Available for free | Yes | Yes |
| Paid cost | $9.99 per month | $9.99 per month |
| Paid trial period | 3 months | 3 months for $0.99 or 1 month free |
| Number of songs | 30 million + | 30 million + |
| Family sharing | $14.99 per month for 6 users | $5 extra per additional user |
| Offline playback | Yes on paid subscription | Yes on paid subscription |
| Apple and Android | Yes | Yes |
| Built-in radio | Yes – DJ led | Yes – algorithm |
| Tailored recommendations | Yes | Yes |
| Quality | 256kbps | 320kbps |
| Free mobile skips | Yes, 6 | Yes, 6 |
As you can see from the table above, there really isn't much to choose between when it comes to Apple Music versus Spotify. Although, and this really could be the deal breaker for many people – Apple Music have got Taylor Swift and Spotify haven't. A good enough reason for many to cancel their Spotify subscription and switch immediately, I am sure you'll agree.
Can you transfer music from Spotify to Apple Music?
I'm afraid not. You can transfer from Beats Music to Apple Music, but at present there is no way to transfer playlists from Spotify to Apple Music. And this may be a reason why many won't be switching any time soon. But, I am sure that Apple will release a tool to do so in the very near feature, if they think it is stopping them from taking Spotify users.
Apple Music v Spotify – verdict
So, to summarise, there is nothing much between the services. As with most Apple, it is slick and stylish, but Spotify isn't too bad on this front and it is countered by the fact that I can play Spotify through my TV set-top box.
If you aren't a Spotify member then you can choose either. As a Spotify Premium user with a whole bunch of playlists already set up, I won't be moving to Apple Music any time soon. I am very happy with Spotify and there is nothing in Apple Music that is going to convince me to switch yet.
Looking to buy an iPhone? Sell your old phone with us for top dollar
If Apple Music has convinced you that you need an iPhone, be sure to sell your old cell phone through us. You can get $100's, simply search for your model using our search function or 'Brand Search' to select your device and see the latest recycling prices.
Sell now to secure the highest price, they can drop quickly, especially when new handsets are launched!