Hi all, today's post is the first in a quarterly series where I bring you some interesting American phone recycling industry statistics taken from our website www.sellmycellphones.com analytics.
It is also my first attempt at an infographic, so as Doc Brown once said, "I apologise for the crudity of the model". I am no designer and I know it's a lame effort, but hopefully I will get better and of course, it's the statistics that are the interesting part.
Here it is: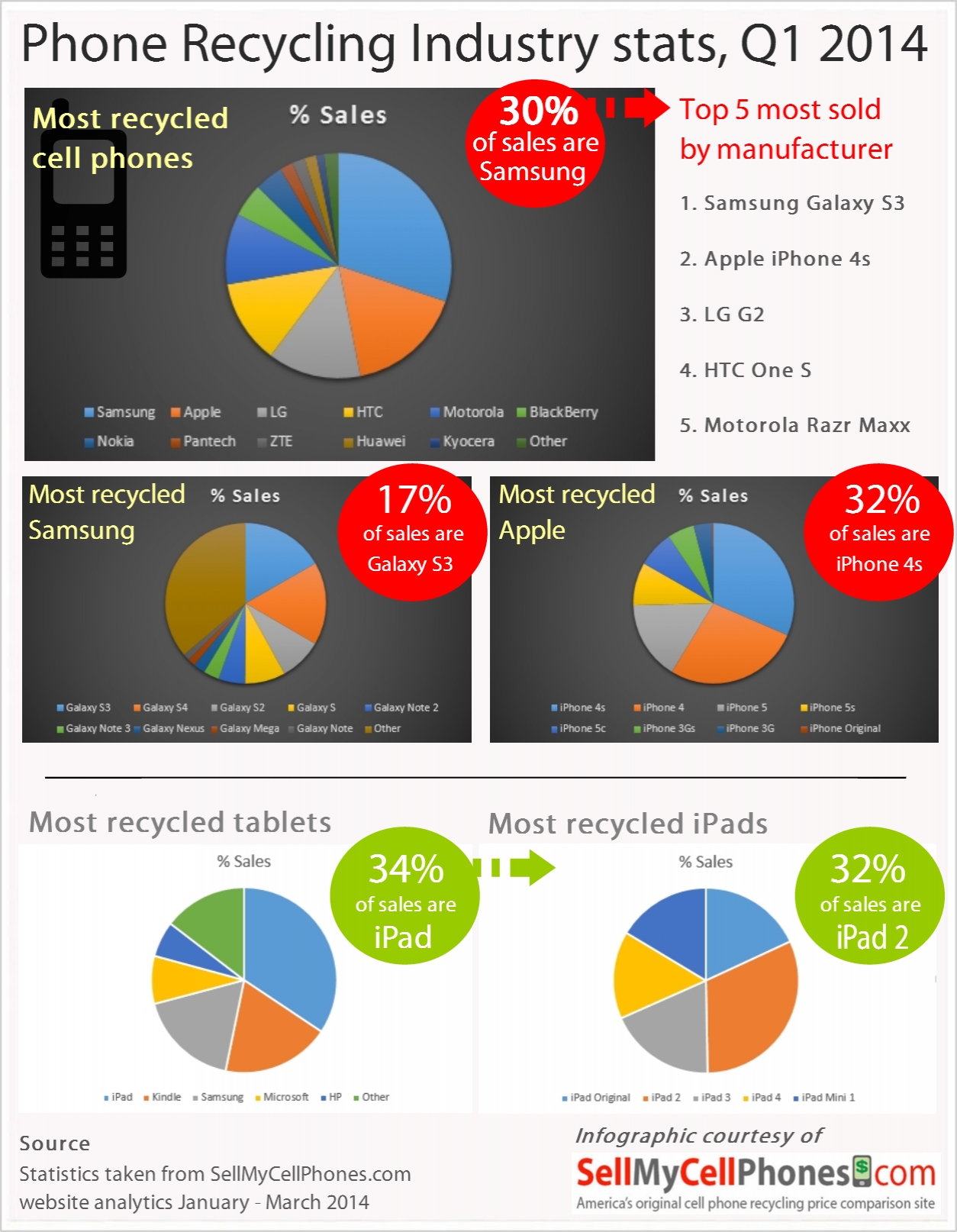 Phone recycling industry data summary
So, to summarise the data from 1st January to 31st March 2014 and also throw a few more numbers at you:
The most recycled cell phone manufacturer was Samsung (30%), followed by Apple with 17% then LG with 13%
The most recycled Samsung cell phone was the Galaxy S3 (17%), closely followed by the S4 with 16% then the S2 with 9%
The most recycled iPhone was the 4s (32%), followed by the iPhone 4 with 27% and then the iPhone 5 with 16%
The most recycled tablet manufacturer was Apple (iPad obviously) with 34%, followed by the Amazon Kindle with 19%, then Samsung with 18%
Of all iPad models recycled, iPad 2 with 32% was the most recycled, followed by the iPad 3 with 19%. You may not remember the iPad 3, it had a retina display but was quickly disowned by Apple and removed from all sales outlets and replaced with the "iPad with Retina Display" (iPad 4), much to the annoyance of everyone who had bought it. The original iPad was in third place with 18%. Surprisingly, not a single iPad Air or iPad Mini with Retina Display (iPad Mini 2) were recycled through our site in the first quarter. Owners must be pretty happy with theirs, to be honest, I do love my iPad Air.
Remember, these statistics are all taken directly from our own analytics so won't be found anywhere else on the web. They may also differ to those of other recyclers but we wanted to share them with you. If you have any other data resources or opinion, please feel free to share them in the comments below, I'd love to hear from you.
Also of course, don't forget to recycle your old cell phones, tablets and other electronics devices right here, we compare America's most reputable recyclers so you can be sure of a great deal and swift payment.
I will share the current quarters data with you sometime in July, hopefully by then, my design skills will have improved (no promises though)!