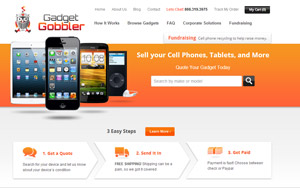 We are pleased to welcome GadgetGobbler.com to the site as our latest reputable cell phone and gadget recycling company. GadgetGobbler.com offer fantastic prices for cell phones and other used electronic items such as iPods, iPads and tablets.
They take pride in ensuring that the recycling process is as simple and easy as possible. Their website is easy to use and navigate and there are a huge amount of reasons why they are at the forefront of the American cell phone and gadget recycling industry.
Recycling made easy at GadgetGobbler.com
Just some of the reasons to sell to GadgetGobbler.com are:
Competitive pricing offers
Frequently updated prices
Free shipping
Quotes valid for 30 days
High customer service
Fast payment
Payment via PayPal or check
They are continuously checking and updating their prices against other recyclers to ensure that they are always competitive and the latest handsets and gadgets are available on their site for you to obtain a quotation. If you can't see your device on their website they recommend that you get in touch with them, they may still be able to offer you a competitive price, their mission is to ensure that as many cell phones and gadgets are recycled as possible.
At SellMyCellPhones.com we only compare Americas most trusted and reputable recyclers and we are sure that our partnership with GadgetGobbler.com will be a long and productive one. Their testimonials section shows all of the positive feedback they have had from sellers across the USA and we are positive that they will continue to provide top prices and a fast and easy service long in to the future.
If you have an old cell, iPod, iPad or tablet to sell then visit GadgetGobbler.com today for a great price.
Search for your product in our database now to see if Gadget Gobbler are offering cash for it.