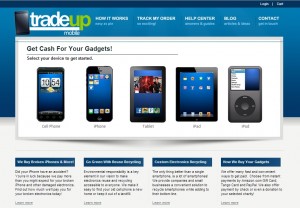 Not only are we America's original cell phone recycling price comparison website, we are also growing in popularity across the country each and every day. Hot on the heels of welcoming Gadgetocity.com to the website, we are pleased and proud to announce that TradeUpMobile.com is now also featured on our website!
TradeUpMobile.com not only offer fantastic prices for your old cell phones, iPads, iPods and tablet computers, they also boast fast payment and the widest range of payment options available throughout the whole cell phone recycling industry. You can get hundreds of dollars for your old gadgets and electrical goods and payment is often issued within 24 hours of your goods being received and verified.
TradeUpMobile.com offer pre paid printable shipping labels for your goods and free shipping boxes are available upon request. You can then choose to be paid through any of the following methods:
Check
PayPal
Amazon.com Gift Card
Tango Card (redeemable at iTunes, Starbucks, REI and many more)
Donating to a charity
Not only is their payment range fantastic, their website also allows you to track your order from start to finish. It is GoDaddy.com verified and secured and for extra peace of mind, they are a BBB accredited business. If you have any questions or queries, the TradeUpMobile.com website also features Instant Chat so you can speak to one of their operatives straight away.
If you have a cell phone, iPod, iPad or tablet computer that you are looking to recycle, then visit TradeUpMobile.com today for a fantastic price.
Click here to visit TradeUpMobile.com now.