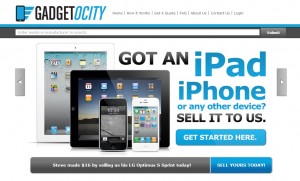 We are proud to welcome Gadgetocity.com in to the CellMyCellPhones.com cell phone recycling family. You will now find Gadgetocity.com in our list of America's most reputable and reliable cell phone and gadget recycling companies and their prices are among the most competitive in the industry. You can get hundreds of dollars for your old cell phone or gadget; they are currently paying over $500 for some iPhone 5 models!!
Gadgetocity.com was formed in Neptune Beach, Florida in 2011 and has quickly built up a fantastic reputation in the cell phone recycling market for their high prices, fantastic customer service and the fast payments that they provide. They offer prices on over 300 different handsets, gadgets and tablets and you can get a price regardless of whether your electronic goods are new, used or broken.
Gadgetocity.com offer free shipping and can even send you a box if it is required for your handsets. A shipping label takes around 2 -3 business days to arrive and once your cell phone or gadget has been received and verified by Gadgetocity.com, your payment is issued within 24-72 hours. You can choose to be paid by either check or PayPal, whichever is most convenient for you.

If you have a cell phone, iPod, iPad or tablet computer that you are looking to recycle, then visit Gadgetocity.com today for a fantastic price.