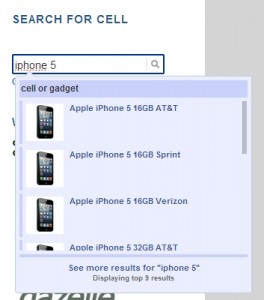 It has taken a while to perfect but here at SMCP headquarters we have finally rolled out our cell phone and gadget search functionality to the website.
Using the search functionality is easy and our database now houses over 1,000 cell phone models and over 3,000 cell phone and gadget prices. We compare America's top cell phone and gadget recyclers to ensure that you get the best price. As well as cell phones, you will find iPods, MP3 players, iPads, tablets and even iMacs within our search.
Whatever your gadget, we think we can get you a great price so that you make money from your gadgets and help the environment at the same time. Recycling cell phone parts and keeping them out of landfill is beneficial to everyone.
Please view our search tips page if you are having trouble finding your gadget in our database. If you still can't find it then please get in touch, we may still be able to get you a great price and always aim to respond to queries quickly. For the fastest response, please paste your cell phone make and model on our Facebook wall. Alternatively, please use our Contact Us form; we should be able to get back to you within a few hours.
Any feedback on the new search function is always welcome as we are constantly striving to improve the site and make it as easy as possible for you to find what you are looking for. If you have a suggestion, please Contact Us.
Happy selling!