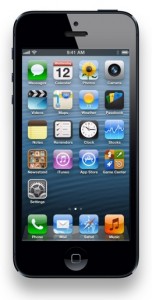 It was one of the most anticipated Apple conferences ever and they finally announced the release of the much fabled iPhone 5, now the question on Apple lovers lips everywhere is "should I sell my iPhone to get this new beast?"
After the moderate reception that the previous two Apple Worldwide Developer Conferences received upon announcing the iPhone 4S and then the iOS 6 software update, the release of the iPhone 5 was pleasing, although in an evolutionary rather than revolutionary way. It must be hard for Apple to live up to the expectations of the World, every year seems to be a slight anti-climax because the latest iPhone release isn't capable of getting me dressed, driving my car and housing a 10 billion megapixel camera whilst being 1 millimetre thick and 100% unbreakable, even when dropped from an aircraft! When you break it down though, they are still the most cutting edge, beautifully crafted and styled handsets in the World today (in this editors opinion).
iPhone 5 stand-out features
But should I sell my iPhone to get the latest incarnation or is it just a mild improvement on the 4S? Here are the standout changes, features and enhancements I will be getting for my buck if I sell my iPhone to get my hands on the new one upon its September 21 release:
Larger screen – enhanced Retina display from 3.5 inches to 4 inches
Thinner – at 7.6 millimetres thin, its 18% thinner than the 4S
Lighter – at 112 grams its 20% lighter than the 4S
New maps – Google Maps is no more, replaced by Apples own Vector based mapping technology incorporating 3D and turn by turn spoken navigation including traffic information and delay rerouting
4G capable – Superfast wireless internet leaves 3G in its wake
A6 processor – The new chip powering the iPhone 5 claims to be up to 2 times faster than the A5 used in the iPhone 4S
Improved Camera – Panorama mode for beautiful landscapes and enhanced low light mode
3G FaceTime – No longer limited to WiFi, you can now FaceTime over standard cellular connection
Enhanced Siri – Siri now understands and does more
New connector – Gone is the old 30 pin connector, replaced with a smaller, more durable 'Lightning' connector
New buds – Gone are the old ear phones, replaced with ergonomically designed in-ear buds
 All of the above enhancements are impressive but are they making you think "I must sell my iPhone now"? Many of the features are due to the updated operating system iOS 6 which becomes available to all iPhone owners from iPhone 3GS upwards on 19th September. If I want the new maps, improved camera and Siri, and 3G FaceTime then I don't need to sell my iPhone. I can get all these two days before the iPhone 5 goes on sale, although based on the iOS 5 update shenanigans where users complained of constant crashes and sitting round waiting all night due to the massive influx of users, I may leave it a day!

Even more iPhone 5 features
There are some further, less standout features such as:
Enhanced Facebook integration
Improved screen brightness
Aluminium back
Beautifully beveled edging
Sapphire crystal camera for extra scratch resistance
Passbook ticket integration
Improved call responses
Revamped mail including in-mail picture viewing
Revamped Safari browser

Where should I sell my iPhone?
It goes without saying that millions of Apple fans will be rushing to get their hands on the new model as soon as possible, so if the only option for you is to "sell my iPhone and get the 5 immediately" the quickest and easiest way to sell your current handset is through a cell phone recycler, you can get a fantastic price and the service is hassle free and fast. You can get hundreds of dollars towards your new iPhone 5 within a few days. At SellMyCellPhones.com we compare the most trusted and established cell phone recyclers in America. Looking at the current prices available, there are some fantastic offers, both Technollo recycling and Gazelle recycling are currently paying over $300 for some iPhones!
To sell with them or to find out more details, simply click one of the links below:
Sell my iPhone at Technollo now