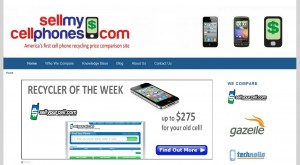 Hi all, welcome to the newly designed www.sellmycellphones.com. It isn't quite finished yet, there's new search functionality to be implemented to ensure that you can see the latest top prices that our approved recyclers are offering when you want to sell cell phones. Rest assured that we are working hard behind the scenes at SMCP headquarters to help ensure that you get the best price possible for your old cell. Our emphasis is on ensuring that the site is clean and simple to use, we don't want to make it overly cluttered or too busy.
America's first sell cell phones comparison site
As you are probably aware, we were America's first cell phone price comparison website when we launched back in early 2010. More and more sell cell phones companies are appearing online across America every month and it is our mission to ensure that not only are you getting a great price for your old cell, we also aim to ensure that you recycle with a reputable and trustworthy company who will endeavour to honour their quote and send you your cash in the speediest time possible.
All of the cell phone recyclers that we compare are established and pride themselves on offering not only great prices but a great service too. Your old cell phone may be worth hundreds of dollars so the last thing you want to do is send off your phone and then never receive your cash. We aim to prevent this. We are currently comparing 5 of the most established and trustworthy recyclers in the USA, SellYourCell.com, Gazelle, Technollo, BuyMyTronics.com and PaceButler. All offer top dollar for your cell and some of them also recycle other electronic gadgets such as tablet computers, PDA's and digital cameras. You could be sat on a small goldmine with all of the old gadgets that many of us accumulate over the years.
We have some new features designed to keep you on top of the recycling industry such as Recycler Of The Week where we show you great offers from the past few days. You can also subscribe to us, like us and add us through Twitter, Facebook and Google+ to keep on top of the latest technology and recycling news. We are here to keep you up to date with the latest goings-on across America as the cell phone recycling industry gets bigger and bigger and we will be adding more functionality to the site in the coming months.
If you have a question or want us to source the very latest price for your old cell then we would love to hear from you. Get in touch through our contact us page or post your question or query on our Facebook wall, our staff are continually monitoring so you are sure to get a fast reply.
Happy recycling!