We Buy Mobile cell phone and gadget recycling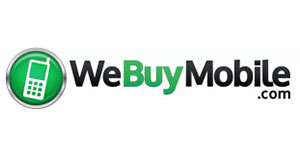 Use our search function to see how much We Buy Mobile are offering for your device >>
We Buy Mobile has quickly grown to become one of the most reputable cell phone recycling companies in America.
WeBuyMobile.com has built its fantastic reputation by offering top prices for old and new cell phones as well as other frequently recycled gadgets such as iPods, iPads and other tablet computers.
We Buy Mobile pay over $400 for some gadgets and cell phones and their payment is fast, simple and trust-worthy.
We Buy Mobile was formed in Neptune Beach, Florida in 2011 when the owner bought a second hand cell phone. The seller told him that he was selling his old cell to help fund the purchase of a new smart phone and stated that this was how they were always able to afford the latest cell and that they had been doing it for years.
Selling your old cell phone for a few hundred dollars is a big chunk of cash towards the latest handset. Many top of the range cell phones now often come with an initial up-front cost required along with the cost of the monthly contract so if your old cell can help pay for your new cell it is common sense to do so. From this small seed, the website WeBuyMobile.com  was created.
At We Buy Mobile, selling your old cell, tablet or other gadget is simple, regardless of its condition. On the WeBuyMobile website you can get prices for new, used or broken handsets and some of the prices on offer are the highest in America. They pride themselves on always being competitive and pay close attention to other recycler prices to ensure they are at the top of the market when you are looking to recycle.
The We Buy Mobile business goal is to always aim to offer their customers the best deal for their handset along with the very best customer service.
We Buy Mobile have made gadget recycling fast and hassle-free. They pay for shipping and can also send you a box to ship to them in if required. Boxes and shipping labels usually arrive within 2-3 working days.
Simply ship your cell phones or gadgets to them and upon receipt, payment is normally issued to you within 24-72 hours. You can be paid by either check or PayPal, whichever is the most convenient for you.
Reasons to use We Buy Mobile
Free shipping
Fast payment – usually within 24 hours of device receipt
Payment via check or PayPal
Fantastic customer service
We Buy Mobile contact information
Should you need to contact We Buy Mobile you can do so using the contact form on their www.webuymobile.com website or using the following phone number and mailing address:
Phone: 904-274-2125
Address: 
We Buy Mobile LLC
2110 El Lago Way
Jacksonville
FL 32224
See how much We Buy Mobile are offering for your cell phone, tablet or electronic device using the search box at the top of the site.
We Buy Mobile customer reviews
For the latest We Buy Mobile customer ratings, reviews and testimonials, or to leave your own rating and review, please click here.