MonsterBuyBack – top dollar for working and broken electronics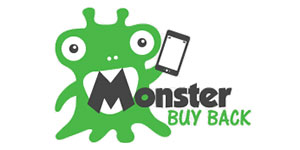 Use our search function to see how much MonsterBuyBack are offering for your device >>
MonsterBuyBack's mission is to become the most trusted electronics buy-back company out there. They offer both competitive prices and top level customer service to sellers to help achieve this goal.
They buy both used and broken devices and their database includes cell phones, tablets, iPads and iPods. Payment is swift via PayPal or check and you can receive payment within 24 hours of your device being received by them to check.
As you would expect, shipping is free and offers are valid for 21 days. Orders can be tracked through the MonsterBuyBack website which also has Live Chat functionality should you have any urgent queries that you need dealing with. MonsterBuyBack also ensure that all personal data is removed from any devices that they receive.
Reasons to sell to MonsterBuyBack
Just some of the reasons to sell to them include:
Free shipping label for all offers over $1
Free shipping materials for offers over $15 (upon request)
Offers are guaranteed for 21 days
Track your sale online
Fast payment via PayPal
Checks issued within 1-2 business days of device receipt
Personal data removal from all devices
MonsterBuyBack contact information
Should you need to contact MonsterBuyBack, you can do so using the Live Chat or contact form on their website or using the following phone number and mailing address:
Phone: 717-496-8452
Mailing Address:
MonsterBuyBack LLC
1495 Lincoln Way East Suite #107
Chambersburg
PA 17202 
See how much MonsterBuyBack are paying for your old electronics by searching for your device on our site now.
MonsterBuyBack customer reviews
For the latest MonsterBuyBack customer ratings, reviews and testimonials, or to leave your own rating and review, please click here.