SELLMYCELLPHONES.COM NO LONGER PARTNERS WITH EXCHANGEIT. PLEASE USE THE SEARCH FUNCTION ON THE RIGHT TO FIND THE LATEST PRICES FROM OUR TRUSTED RECYCLERS.
ExchangeIt – top prices paid for iPhones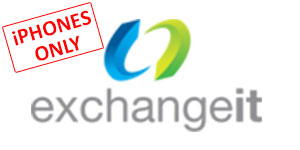 ExchangeIt are one of the new wave of specialist cell phone recyclers that are helping to make the cell phone recycling industry more competitive and in turn helping the user to get the best price for their old cell phones.
Specialising in iPhones, ExchangeIt offer an easy, hassle-free way for you to sell your old iPhone, whether it is in mint condition, has a few wear and tear scratches or is broken.
ExchangeIt's prices are amongst the highest paid across the entire industry and their service is second to none. They are the fastest paying device trade-in website in America, with 95% of payments made within 24 hours of them receiving your handset thanks to their cutting-edge ExchangeFaster© trade-in system.
At present, they pay out for all iPhone models as well as a selection of iPads and their cell phone catalogue is expanding all of the time. If you have an iPhone to sell, we doubt you will find a higher recycling price than those offered on ExchangeIt.us.
Reasons to recycle with ExchangeIt
Just some of the reasons to recycle your old iPhone with them include:
Fastest paying device trade-in site in America, 95% of payments made within 24 hours of handset receipt
Payment by check or PayPal transfer
Some of the highest prices in the recycling industry
Fast and intuitive website selling process
Free shipping kit
Free data wiping should you forget to reset your device
14 day price guarantee
ExchangeIt pride themselves on offering the best service out there. If they consider your electronic device to be in better condition than originally though, they will raise your pay-out automatically. Should they need to lower your offer and you decline it, they will ship your device back to you free of charge.
The number of satisfied customers that they have is growing on a daily basis, there really is no down side to recycling through ExchangeIt. If you have an old iPhone that you are looking to upgrade, get the best price available now.