SELLMYCELLPHONES.COM NO LONGER PARTNERS WITH OR ENDORSES BUY BACK WORLD. PLEASE USE THE SEARCH FUNCTION ON THE RIGHT TO FIND THE LATEST PRICES FROM OUR TRUSTED RECYCLERS.
BuyBackWorld – fast and easy recycling of all electronics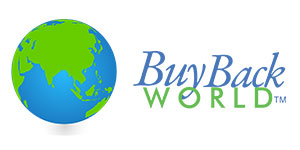 BuyBackWorld offer fantastic prices, not just for your old cell phones, tablets and iPods but also for many other electronic devices such as MacBooks, consoles, smart watches, digital cameras, GPS, calculators, MP3's and PDA's.
Basically, if it's electronic, they want to buy it! Founded in 2009 by two entrepreneurs, they have grown rapidly to become a market leader.  Their websites ease of use makes getting cash for your old gadgets simple.
BuyBackWorld pride themselves on offering a hassle free way to make yourself some money and help the environment at the same time.
Products that BuyBackWorld purchase
BuyBackWorld's list of electronic devices that they will buy from you is extensive. They offer prices on everything from cell phones to tablets to gaming consoles to headphones and even wearable technology such as Google Glass.
All Buy Back World quotes are valid for 30 days and they are continuously scanning market data and competitor prices to ensure that the offers they make are amongst the highest in the industry.
You can still sell your cell phone, tablet or iPod even if you no longer have the original packaging and accessories. If you can't find your gadget on their website then you can still send it to them to ensure that it is disposed of in an environmentally friendly way and doesn't find its way into land fill. After all – phone and gadget recycling is a great way to do your bit to help the environment! As soon as they receive your device, a member of the BuyBackWorld quality control team check the device and if all is OK payment will be issued.
They will update you every step of the way on the progress of your order and pride themselves on offering a top level of customer satisfaction. Once approved, payment is made through your selected method – either PayPal, check or Amazon gift card.Simply search for your cell phone or gadget and if the price is acceptable then proceed with your order.
You will then receive a postage paid mailer to send your devices off in. BuyBackWorld advise that you wipe all of your personal data prior to shipping and also pack your gadgets using newspaper or some other form of packing materials in order to prevent damage in transit. Then just drop it in any US mailbox. Should you forget to wipe your data then don't worry, the first thing BuyBackWorld do when they receive a new device is ensure that all data is wiped and if any still exists they will do this for you to Department of Defense standards.
Reasons to use BuyBackWorld to recycle:
Competitive pricing offers
Frequently updated prices
Free shipping
30 day Price Protection Promise
High customer service
Step by step updates
Fast payment
Bulk BuyBack service for business customers
Payment via PayPal, check or Amazon gift card
Praised by Forbes, The New York Times and PCWorld
Recycling with BuyBackWorld is fast, easy, secure and reliable. If you have electronics lying around then don't delay, recycle with them today.