Technollo gadget recycling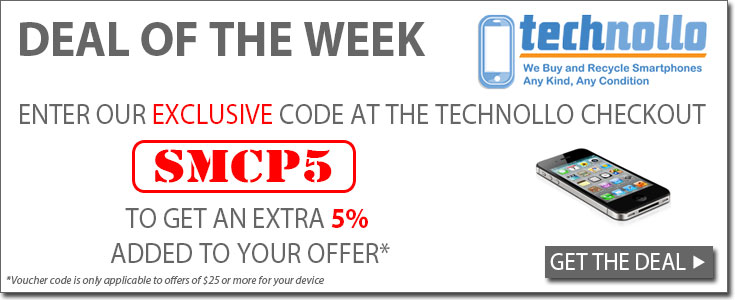 Technollo is a relatively new cell phone and gadget recycler but their reputation is getting stronger each and every day. First founded in 2010, they are now growing at huge rate due to their excellent service and fantastically competitive recycling prices.
Based in Austin, Texas, Technollo take their reputation seriously and pride themselves on ensuring that your transaction with them is smooth from start to finish. That is why one of their representatives is just a phone call away. They offer retailer programs to help retail stores maximize their customer's experience by selling their older-unwanted electronics at great prices and shipping is free with the USPS shipping label that they provide.
The database of electronic gadgets that Technollo accepts is growing all the time, they currently accept cell phones, tablet computers and digital cameras but more goods are being added all the time such as GPS systems, MP3 players and laptop computers. They recycle everything and take helping the environment extremely seriously, that is why they are proud of their zero landfill policy, they recycle everything. It is their aim to improve the environment now and for many years to come.
Any offer that you receive from Technollo is valid for 30 days so if the price that recyclers are paying for your particular cell phone model drastically reduces you don't need to worry. As long as you send it to them within the 30 day offer period, you will receive the price you were quoted. Payment is issued the day that they receive your electronic gadget and you have the choice of check or PayPal payment. If you choose check payment it can take 2 to 3 weeks for you to receive your payment but PayPal payments are sent the day they receive your phone.
The Technollo website is simple to use and they pride themselves on offering a simple process from start to finish. Register for a free account, find the phone or phones you wish to sell in their extensive database, submit your order and get your free USPS shipping label and then ship them your phone. As soon as it is received Technollo will issue you with your payment.
More and more people looking to sell their old cell phones are finding that the offers they receive from Technollo are amongst the most competitive.
Visit them now to see how much you cell phone is worth. It could be hundreds of dollars!


Technollo customer reviews
Please find the latest Technollo customer ratings, reviews and testimonials below. Have you used Technollo to sell your cell phone or gadget? If so, please leave your feedback using the form below.
Click here to submit your review
---
---
Good prices
Technollo offered the best price for both the phones I sold. PayPal payment was very fast.

---
Fast to sell my iPad Mini
Sep 08, 2013
by
Tom Anderson
Cracked the screen on my iPad Mini 16GB. Was disappointed but saw that I could still get a good price for it. Check came quickly. No problems.

---
Technollo are excellent
I have used technollo to sell old cells lots of times and they really do offer a great service.

---
Used voucher code and got more
Aug 19, 2013
by
Winterburn
I sold a bunch of old cells, used the voucher code at the checkout too to get an even higher price. The whole thing was really fast. Thanks TEchnollo!

---
Good price
good price even though my cell was broke. would recommend.

---
Technollo are excellent
I have used technollo to sell old cells lots of times and they really do offer a great service.

---
Best price
I sold with technollo, they offered the best price on the internet for my old iphone and the service was cool.

---
Got even more money with the voucher code
Jul 11, 2013
by
Ruby Tuesday
Technollo offered the best deal for my Samsung S3. I used the exclusive voucher code at the checkout and got an extra 10 percent added to the offer too. Will definitely use again when i am selling in the future.

---
Good deal
Used technollo a few times and they always offer a good deal and pay fast. Will use again.

---
Technollo are excellent
I decided to recycle with Technollo because I had head about them for a long time. I sold my cell and an old iPod that I don't use anymore because I have a new iPhone. I got good prices for both and the payment was fast. Will use them again.

---